4D Flow Cardiac MRI: Coming to a Town Near You

By Blair LaVake, Director, Cardiology, UPMC
Advancements in cardiac imaging are like Oscar nominations for Meryl Streep… they are constant. Healthcare administrators must ensure that they are not only keeping up with the Joneses, but also that they are expanding access to these services through as many communities as possible. The UPMC Heart and Vascular Institute Cardiovascular Magnetic Resonance (CMR) Center is doing just that by training MRI techs in our system from Pittsburgh to north Central Pennsylvania and western New York. The key to success has been collaboration between multiple departments, such as cardiology, radiology and scheduling to name a few. One of our latest innovations has been the expansion of 4D phase contrast imaging (known as 4D flow).
4D flow imaging is like watching a 3D movie, and then adding the 4th dimension of time. We use this to both visualize and measure the movement of blood over time. With it, we can see the speed and direction blood travels, all within one sequence acquisition. Much of the work is done during post-processing, which minimizes the time the patient needs to be on the table. An analogy of the advantage of this technique would be giving a plumber the ability to visualize the cause of a slowly draining sink without needing to take anything apart – the imaging would clearly show if the sink is simply clogged, or if the air vent is plugged, or if something is crushing the pipes altogether. 4D flow imaging has been a game changer for non-invasive cardiovascular imaging and a cheat code of sorts for evaluating patients with congenital heart malformations.
Our System Specialist Steve Mancuso has been tasked to train all of our MRI Technologists in Cardiac MRI. He travels to each location, giving face to face education and hands-on training. Steve also utilizes remote connections with our teams and can help with real-time scanning and processing. An example of his work is the latest expansion of 4D Flow imaging in Erie, PA., at UPMC Hamot Hospital. Forming relationships with our Northern team and showing the initiative to help them grow their Cardiac MRI program only strengthens UPMC as a system. This keeps training in house, consecutive, and mirrored to the policies and procedures they are all trained in. Steve's outreach takes place no matter the traditional boundaries of which type of department houses the MRI equipment – such collaborations further cement the various parts of UPMC together, and bring advanced imaging to more patients' doorsteps.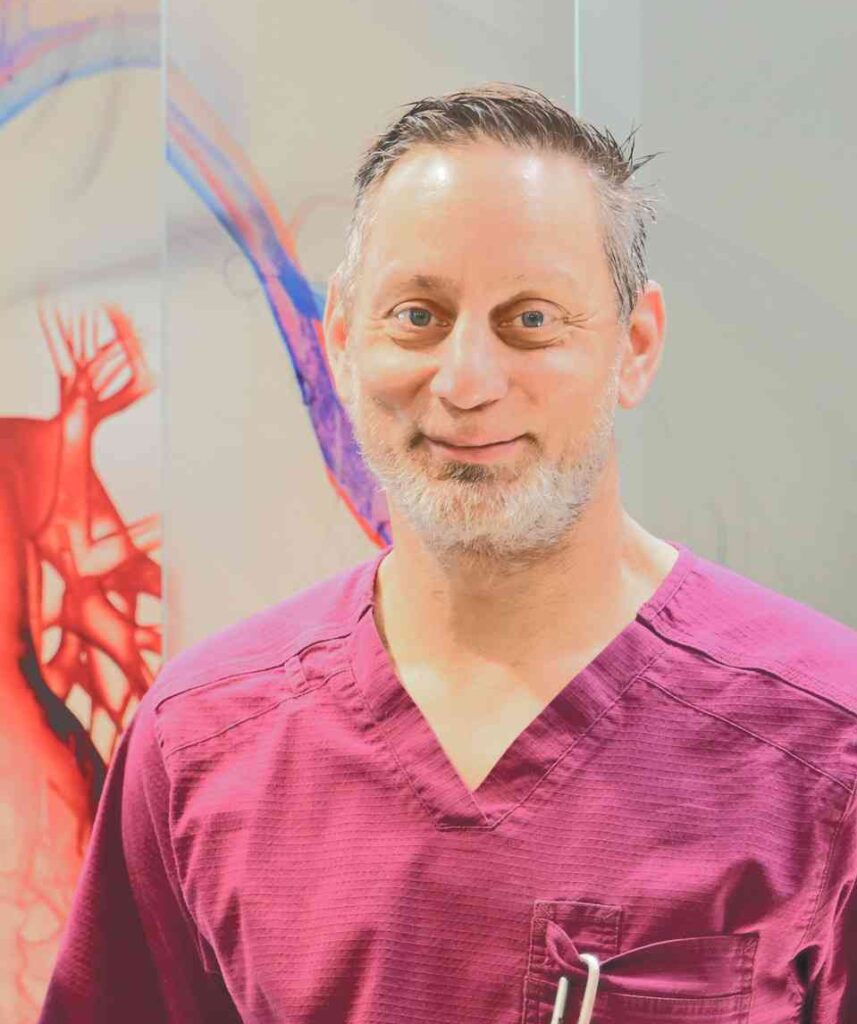 We have put great emphasis on patient access and equity of care to all of UPMC's surrounding communities. In this case, the offering of services at UPMC Hamot saves patients from northwestern PA a 2 hour drive for their direct care. As we continue to expand this service line through the system, Cardiac MRI will be offered through Pennsylvania, Maryland, and New York. With a Matrix Leadership philosophy at UPMC, decisions are made together to ensure everyone is on the same path. This ensures that the quality of the scans received from one location to the next remains at the highest possible level.
4D flow imaging is like watching a 3D movie, and then adding the 4th dimension of time. We use this to both visualize and measure the movement of blood over time.

Steve Mancuso, CMR Systems Specialist
Being a guy born and raised in Rock Springs, Wyoming, I can attest to the importance of access to care. Smaller town hospitals lack the revenue investment to offer such specialty care, which usually leads to being transferred hours away to a grander scale hospital. Growing up, we took plenty of multi-hour drives to a different state altogether in order to receive the care we needed. The only bonus part of the trip as a kid was that you got to eat at restaurants you also didn't have back home. Our goal is to not only offer the convenience of getting the care you need, but also having that care be of the highest possible quality.
Our Pittsburgh CMR team may be in "Mr. Roger's neighborhood," but we hope to expand that same love and care to as many communities as possible. With our imaging expansion and capabilities, we also need to network and provide physician education on these services in their areas. This may also require working with insurance agency offerings in these communities in order to cover the services. All of these steps must be thought out beforehand and all must put the patient's needs first.
We are looking to take away the hassle for our patients. No one wants to be in a car for hours both ways when they aren't feeling well. We want to enhance their comfort level. When someone is sick, they want to be home around their loved ones, not in a faraway city. We want to provide the care that they deserve, and at the highest quality possible. Our team wants to give the patient the best experience we can in tandem with all of these areas. We look forward to bringing advanced cardiac MRI to a location near you!
---