Digital Transformation is Essential, not an Option

By Haneul Kong, Lead UI/UX & Product Designer, OSPITEK
Due to the COVID-19 pandemic, The words, the digital revolution and the 4th industrial revolution, which were first mentioned in 2016, have taken on a deeper meaning. In particular, as COVID-19 patients occupied medical resources, patients with other diseases were forced to experience a vacuum of medical talent, to the extent that "medical collapse" was mentioned in the medical field. In addition, to prevent social confusion caused by COVID-19, world leaders have actively come up with health protocols such as lockdowns, quarantines, social distancing, face coverings, and vaccination. Citizens work remotely from home to comply with this regulation. Furthermore, proof of vaccination can be determined with QR codes, and the country is actively responding to the problem of COVID-19 by lifting health protocol on data. In this way, social values changed by COVID-19 have led to an acceleration of the digital revolution. By 2020, not only have our lifestyles changed, but our professional practices have also adapted, and the industrial paradigm has also entirely changed by this digital revolution. Today, a wave of change in various industries is influenced digitally by corporate strategies, organizations, processes, business models, culture, communication, and systems.
Why is digital transformation difficult?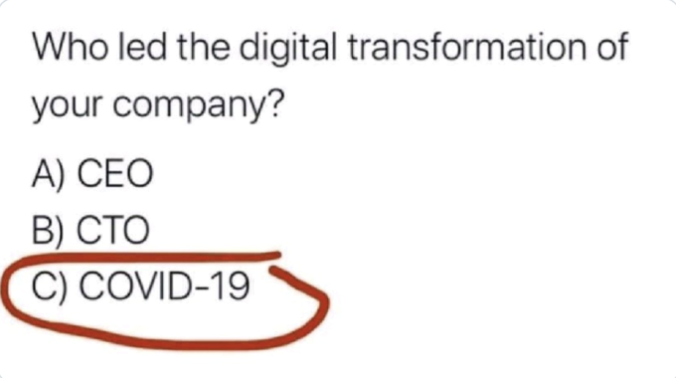 Corporate executives have been striving to introduce digital transformation even before the pandemic in order to aim for efficient operation and management through digital. However, most companies faced difficulties, and they had difficulty accepting technologies, such as rejection of changes in work style, difficulty in accepting digital technology at various ages, fixed organizational culture, and job risks. In the pre-COVID digital transformation, people can read articles about 70% of companies that have failed to digitize.
However, due to the coronavirus pandemic, remote work is becoming more common, and as the perspective, accessibility, and paradigm of technology changes, the above difficulties are rapidly being resolved.
The development of digital technology and the resulting transformation is not temporary, or it is only affecting some industries, but an industrial revolution that brings fundamental and groundbreaking social and economic transformation. Therefore, digital transformation is essential, not an option, in order not to be sacrificed by the 4th Industrial Revolution and the destruction digital transformation will bring.
SaaS platform to drive digital transformation
SaaS stands for software as a service and refers to software running on cloud infrastructure that you can use without downloading or installing, instead of connecting to through its service interface. In other words, as long as you are connected to the Internet, you can access the software through the web interface as well as a desktop and mobile apps (if necessary).
The SaaS platform has the advantage of not requiring installation, being easy to maintain, and providing software updates quickly. In addition, SaaS billing fees are distributed on a per-service use or service subscription basis rather than typical software license ownership. As there is no upfront license fee with the SaaS per use or subscription models, it persuades users to adopt the product at a lower cost. Investors like SaaS returns because they repeat subscription or use fees and bring predictable cash flows. As a result, demand for SaaS platforms, which are easier for companies, organizations, and digital transformation seekers to access and apply feedback is increasing.
SaaS platform development strategy
New process definition: Understand existing business practices, analyze new processes, technology-based automation measures, and set approach directions.
Convergence: Traditionally, all tasks have been divided for efficiency, but this results from convergence and simplification of the digital space into one space. Therefore, it is necessary to find a common denominator of information and data, store it efficiently, distribute data, and produce new reprocessed information.
Application of emerging technologies: AI (Artificial Intelligence), IoT (Internet of Things), Cloud, RFP (Robotic Process Automation), Robotics, Drone, API, etc., to create digital innovation.
Accept active feedback: We need to actively accept user feedback, update user needs quickly, and optimize the process for a user-friendly and easy-to-understand approach.
QA (Quality Assurance): It is an activity that evaluates whether the software runs correctly or whether the user's requirements are applied and improves quality. This is considered the most important category in terms of software reliability, reduced development time and priority, and user loyalty on the SAAS platform, where rapid software updates are advantageous.
Successful digital transformation case
Patients are monitored in real-time through the Internet of Things (IoT) technology to innovate non-face-to-face communication among surgical stakeholders such as patients, families, nurses, and doctors. Founded in 2018, OSPITEK Inc. offers new communication methods from the moment patients book surgery in the clinic to the day of surgery, web and mobile, and optimizes customer/patient relationships by capturing procedures and workflow metadata.
By automating existing simple and divided labor tasks, medical professionals can focus on quality nursing work for patient value. In addition, hospital managers can solve the problem of maximizing the efficiency of the operating room and increasing the utilization of the operating room in terms of management.
Partnering with Adventist Health, SHARP, Paradise Valley Hospital, Cerner, Surgical Care Assistance (SCA), Capital Ortho, and UC San Diego Health systems, etc.
Platform value is recognized by some of the largest organizations in the surgical center market. It was announced recently in Newsweek that OSPITEK has formed a partnership with the global research firm Statista to assess the quality of care, performance data, peer recommendations, and how well facilities were responding to the risks of COVID-19, release their list of America's Best Ambulatory Surgery Center for 2022.